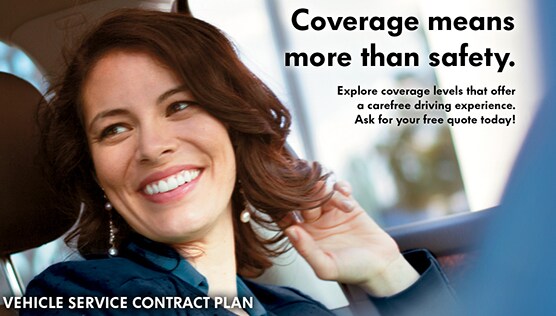 Protect Your Budget
Purchasing a vehicle is a significant investment that is worth protecting. While vehicles today are built better than ever before, there is always the chance of a mechanical breakdown that requires a major repair. With a vehicle service contract, you can help protect yourself and your budget against unexpected repair costs that may result in significant out-of-pocket expenses.
Reduce Your Out-of Pocket Expenses
The costs of repairs tend to increase every year, and even one unexpected mechanical breakdown could burden you with thousands of dollars in unplanned expense. With the advanced technology in today's vehicles, repairs can be costly and are often unpredictable. A vehicle service contract can protect your future finances from these potentially high and unexpected expenses.
Frequently Asked Questions 
Q Does this vehicle have any warranty?
A Many vehicles are still under the original factory warranty, depending on vehicle age and mileage. Many times the factory warranty will reduce coverage periods from original owners to subsequent owners. We use the Warranty Check tab on page one of the vehicle Carfax report as a guide to existing coverage and also recommend contacting the vehicle manufacturer to confirm existing coverage's. Purchasing a vehicle service contract is recommended depending on customer's intended time of ownership and projected mileage driven per year. Your service contract will be there after your manufacturer's warranty has expired, which is when you are likely to need it the most.
Q How much does a service contract cost?
A Prices will range from $1200-$2500 or higher depending on vehicle class, for most loans they will increase payments $25-$50. Many options of coverage's are available. Cost will vary depending on the vehicle year, make, model, and mileage. Other factors include type of coverage, the length of coverage time, and the mileage driven. Most lenders will allow vehicle service contracts to be added to your finance agreement and included in your monthly payment. Service contracts can be financed independent of your auto loan as well. Customers can include the cost of a service contract within their bill of sale when financing with their own lenders.
Q Can I buy a service contract at a later time?
A Service contracts can be purchased at any time; however, the cost of a service contract will increase as the vehicle ages in time and mileage. A vehicle inspection may also be required at the time of purchase, increasing its cost versus buying today.
Q What repairs does the service contract cover?
A There are two types of service contracts.
Exclusionary Contracts will name the components that are excluded from coverage and all other repairs are covered. We refer to these contracts as "Premium". A manufacturer's original "Basic Warranty" or commonly called "Bumper to Bumper Coverage" is an exclusionary contract that will cover all repairs excluding basic maintenance or specifically named exclusions. We believe these contracts are of best value and easier to understand what is covered and what is excluded.
Named Component Contracts will name the specific covered components and all unnamed components are not covered. We refer to these contracts as "Platinum". A manufacturer's "Powertrain Warranty" will name the components of the drive train that are covered and all other components are not covered (Example-Engine and Transmission). These contracts will generally cover less components than the Exclusionary Contracts described above.
Hours
Monday

10:00AM - 6:00PM

Tuesday

10:00AM - 6:00PM

Wednesday

10:00AM - 7:00PM

Thursday

10:00AM - 6:00PM

Friday

10:00AM - 6:00PM

Saturday

10:00AM - 4:00PM

Sunday

Closed